If you want Earn More From TSC, Work in these Regions: Latest Review of TSC hardship Areas.
Latest Review of TSC hardship Areas.
According to the new gazetted Teachers Service Commission (TSC) hardship areas,some of the areas has been excluded from the list.
For instance all Sub-Counties in Nyandarua County which were early regarded as hardship areas were excluded from the list.
The affected sub-counties in Nyandarua include Kinangop, Kipipiri, olJoro Orok, Ndaragwa and Ol Kalou , while in Muranga county they include Kigumo Sub‐County, Murang'a Sub County and Kandara Sub‐County and Nyahururu Sub‐County.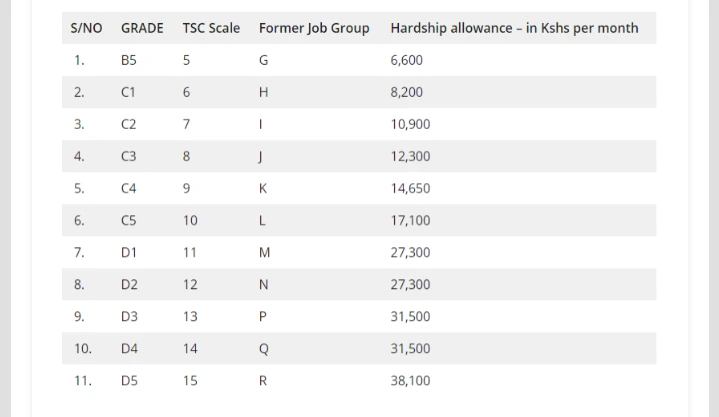 On the other hand the Commission has indentified and mapped various areas as hardship areas. These listed areas of hardship comprise majorly those that are in arid areas,where there is famine and terrorism.
In the year 2012, TSC had 38 areas listed and approved as hardship areas. These areas were listed as hardship areas and teachers in these areas got monthly hardship allowances.
Though TSC has listed some counties as hardship areas it's unfortunate that not all schools or all Sub counties are captured as hardship centres.some of the counties that were reviewed and gazetted are Turkana, Mandera, Samburu, Marsabit, Wajir, Lamu, Kwale, Isiolo, Taita Taveta, Garissa, Tana River, Kilifi, Narok and West Pokot.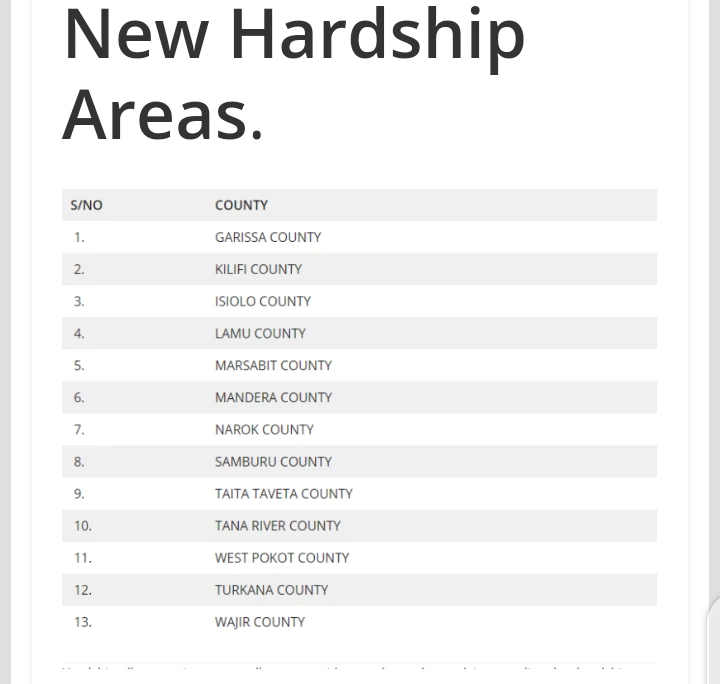 There was really a need to review these areas."The review of hardship zones is needed as several regionshave developed their infrastructure and social amenitiesover the last two decades and are no longer classifiedhardship areas," read the World Bank report on KenyaPublic Expenditure Review.
FACTORS CONSIDERED FOR ZONING HARDSHIP AREAS
1. Limited basic social services and amenities. This include schools, hospitals, water availability and food.
2.Insecurity and high possibility of security threats. For example, terrorism,cattle raids and community clashes.
3. Persistent harsh climatic conditions like flooding, landslides, famine and drought.
4 Lack of or unavailability or inaccessibility to food.
5.Inadequate transport and communication network.
 Hardship Allowances
The Salaries and Remuneration Commission, SRC reviewed hardship allowance in order to be paid at a flat rate for all equivalent grades or job groups. The Commission abolished the pegging of the hardship allowance as a percentage of basic pay. The lowest job grade teacher will get ksh 6,600 while the highest ranked teacher Ksh 38,100.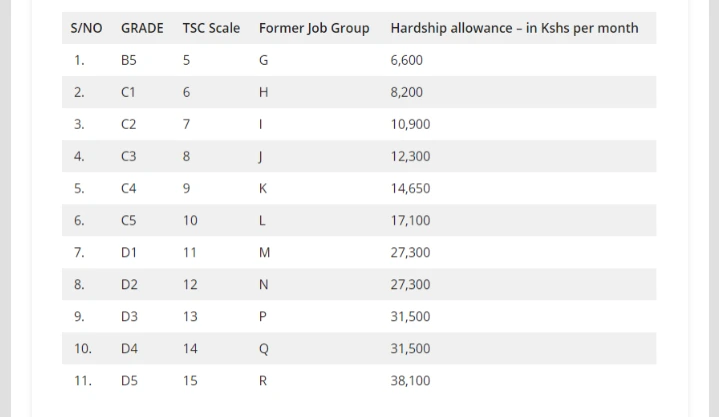 Teachers who have been working in these regions have been getting the allowances to help sustain themselves against the inadequate food and access to basic social amenities.
The commission made an official statement that will see teachers working in these areas have their Salaries increased to a reasonable amount depending on job grade.