KNUT In Awe Shock After Signing CBA With TSC
The teachers in the country have at times cried about oppressions from the employer.
This is after introducing some policies that at times the teachers feel are retrogressive to them.
The introduction of the new CPG scheme of service was never easy at all.The unions being led by Knut opposed it, something that led to Sossion being struck off the teachers register.
The teachers are currently up in arms.This is after the roll out of the new TPD modules that are still being opposed by the teachers.
This roll out has come without any clear notice from the employer.The teachers are opposing spending their own monies in the trainings.
The teachers are now accusing the unions for betraying them by signing such deals with the employer.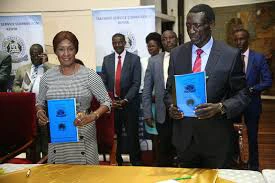 The new Knut Secretary General Mr Collins Oyuu is regretting.
Some 282 teachers were severely punished by TSC.These teachers were interdicted by the employer due to CBC curriculum.
Out of this number,six of them died while on interdiction.Oyuu has said that this will never be forgotten since it touches on the teachers at the grassroots.
He has finally said that the CBC trainings should be decentralized.